Block built house and its modern version built in a few hours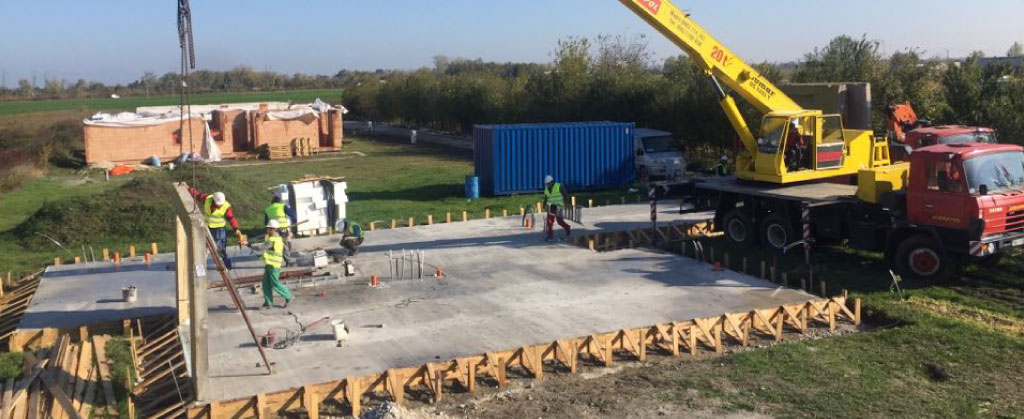 Brick built house or prefabricated family house? What are the differences between them and what are the advantages of ceramic buildings? It's no longer a case that a quality built house can only be built using blocks or bricks!
Block built house
It is not necessary to explain the construction system of block built houses in more detail. This is still the most widespread form of construction, whether among experts, construction companies or the public. Thanks to the possibility of self-sufficiency, it is the most used one. In each family there will be at least one house that your parents, grandparents or friends built themselves with the help of their neighbors and family. However, time is moving forward, and the construction industry is no exception. The work occupancy, and lack of craftsmen, no longer allows such a large number of you to build a house only with the help of family and friends.
How, can you, by choosing the right construction system, get years of proven quality in more modern and innovative way? Order a prefabricated ceramic house!
The construction speed of prefabricated houses, as the main advantage over block built houses
The construction speed of prefabricated houses was one of the main reasons why this technology became more and more popular. Currently, we have a choice of several types and kinds of materials from which we can build a prefabricated house in a significantly shorter time than block built house. Misleading information from media, about prefabricated houses distinguishes only prefabricated houses light – made of chipboard – timber-frame houses and heavy – made of concrete and steel – mass concrete houses. Both of these types of prefabricated houses are associated with negative experiences, whether in the form of apartment blocks, flats and their inaccuracy and poor insulating properties, or chipboard full of chemicals and its adverse effects on health. For several years now, investors had the opportunity to choose a lightweight construction from a ceramic composite similar to a classic burnt clay brick. Choosing the right material is extremely important. Not only to maintain all the important parameters for healthy living, but to build a house in which you can live for more than just a few years.
Can we have a prefabricated house made of ecological material, which has similar properties as a brick? Yes we can!
CERAMIC HOUSES EU ceramic prefabricated houses are, similar to fired bricks, made exclusively from natural materials. Owners of such homes do not have to worry about their health or the health of their loved ones. The building does not degrade over time and its service life is comparable to brick buildings. The ceramic material is not only similar to bricks, but thanks to construction technology, you get even more benefits! The thermal insulation properties of the ceramic composite are similar to those of a brick, but the potential problems with "thermal bridges" at the contact of the individual bricks, which are formed by a layer of mortar or glue, are eliminated. Almost every thermal image of a brick house, with sufficient sensitivity, shows a grid showing where the joints between the bricks are. The solution to this, is higher insulation costs. Insulation, can not solve the difference between the expansion coefficients of bricks and connecting mortars or adhesives. There is always the possibility of hairline cracks. In the case of prefabricated prefabricated buildings, this threat is eliminated. The whole wall is made in the factory. CERAMIC HOUSES ceramic wall is also made in two-layers with basic insulation.
If you are thinking about building a house from blocs, you have several types to choose from. From classic burnt clay bricks through various porous gas silicates or porous concrete. The choice of brick will significantly affect not only the strength of the entire building, but also its properties. If the classic burnt clay brick has a strength of 10 MPa and more, its younger, but only distant relatives – unfired porous bricks usually have a maximum of 3 MPa. Ceramic prefabricated houses produced exclusively from natural raw materials have a strength of 6 MPa and more. Thanks to the production technology, such strength applies to the entire wall area. You will not find joints in ceramic walls, where usually the strength of these joints is much lower than the strength of the brick itself.
Get more usable space with prefabricated house
In addition, the construction method significantly affects the ratio of built-up and usable area. While in prefabricated houses this ratio is significantly lower, construction from a block can impoverish you in some cases by an average of 8% of living space, which in an average family house can represent a whole room. Since prefabricated ceramic houses have a compact wall construction with sufficiently oversized static strength and at the same time with good thermal insulation properties, their thicknesses can often be as much as 10% smaller than in block built houses. Imagine a wall made of one big brick perfectly made in a factory. Another very positive advantage of such a construction is the protection against ubiquitous electromagnetic fields.
Prefabricated houses made of ceramic composite fully meet and exceed the highest demands of current building regulations.
This is because of all physical and technical parameters, but also from the point of view of higher versatility and flexibility in the design of buildings. Houses are then versile and builders can design their own layout of the houses.
What are the main advantages of building prefabricated ceramic house from CERAMIC HOUSES compared to block built house?
already prepared grooves for water and sewage pipes, as well as built-in electric conduits, so there is no need to first-fix electric and plumbing on the construction site
external walls of ceramic prefabricated houses are brought to sie as two-component piece
the walls are exclusively made out of natural materials, as well as the thermal insulation
ceramic houses from CERAMIC HOUSES have excellent thermal insulation properties due to their composition
less built-up area and more usable area while achieving the same properties
Lifespan of a ceramic prefabricated house is calculated for hundreds of years, it is practically unlimited
no hairline cracks in the walls
ceramic walls continuously optimise the relative humidity in the interior
The ceramic prefabricated houses are combination of years of proven material with modern, fast and economical construction technology
If you are one of the people who believe in ceramic material and the best house will still be the one built from bricks, we have the most ecological and modern solution for you! As in other industries, the construction industry is also evolving and technological progress not only makes it easier but also improves the quality of everyday life. Growing demands for a lower price and a faster form of construction push the possibilities and technologies of construction of family houses forward. Ceramic prefabricated houses offer their customers rapid construction without compromising on quality and in compliance with all technological procedures. CERAMIC HOUSES thus represent the most progressive form of construction of family houses to date. The construction speed, insulation properties, quality and durability of the material used or the ecological character of ceramic family houses are the best proof!
Please do not hesitate to contact us, to calculate the price for your ecological ceramic prefabricated house, which will contribute to a healthier environment.
Contact us
.